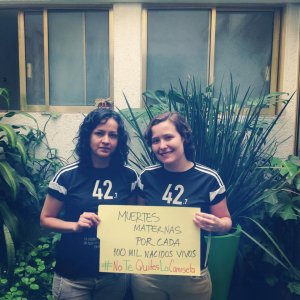 Maternal mortality is a major public health problem mainly in developing countries, and Mexico is no exception, with an average of 42.7 deaths of women, for every 100,000 births, during pregnancy or childbirth due to inadequate care. This figure is well above the 7.3 average recorded by the member countries of the Organization for Economic Cooperation and Development (OECD).
Given this critical situation and recent cases reported by the national media of women who gave birth in the public waiting areas of hospitals due to the hospital's refusal to admit them, GIRE promotes the campaign "Don't take off the shirt." Through this campaign, both GIRE and other institutions involved in the protection of women's rights, invited the fervor of the 2014 World Cup while taking the opportunity to send a message with the t-shirts.
The invitation was that those who want to support this cause take a photograph with a commemorative campaign t-shirt or with the official Mexican selection team jersey and disseminate it on social media websites with the message "Don't take off the shirt, the death of women during pregnancy, childbirth and postpartum is preventable." The campaign also used the hashtag #NoTeQuitesLaCamiseta (#Don'tTakeoffTheShirt)
According to figures from the organization between 1990 and 2013 more than 29 thousand women have died in Mexico during pregnancy, childbirth and postpartum; in 2012 the death of 54 percent of them occurred in a public clinic or hospital. This campaign seeks to pressure health authorities to pay greater attention to this situation.